Kitana participates in the Worlds Greatest Shave at Meraki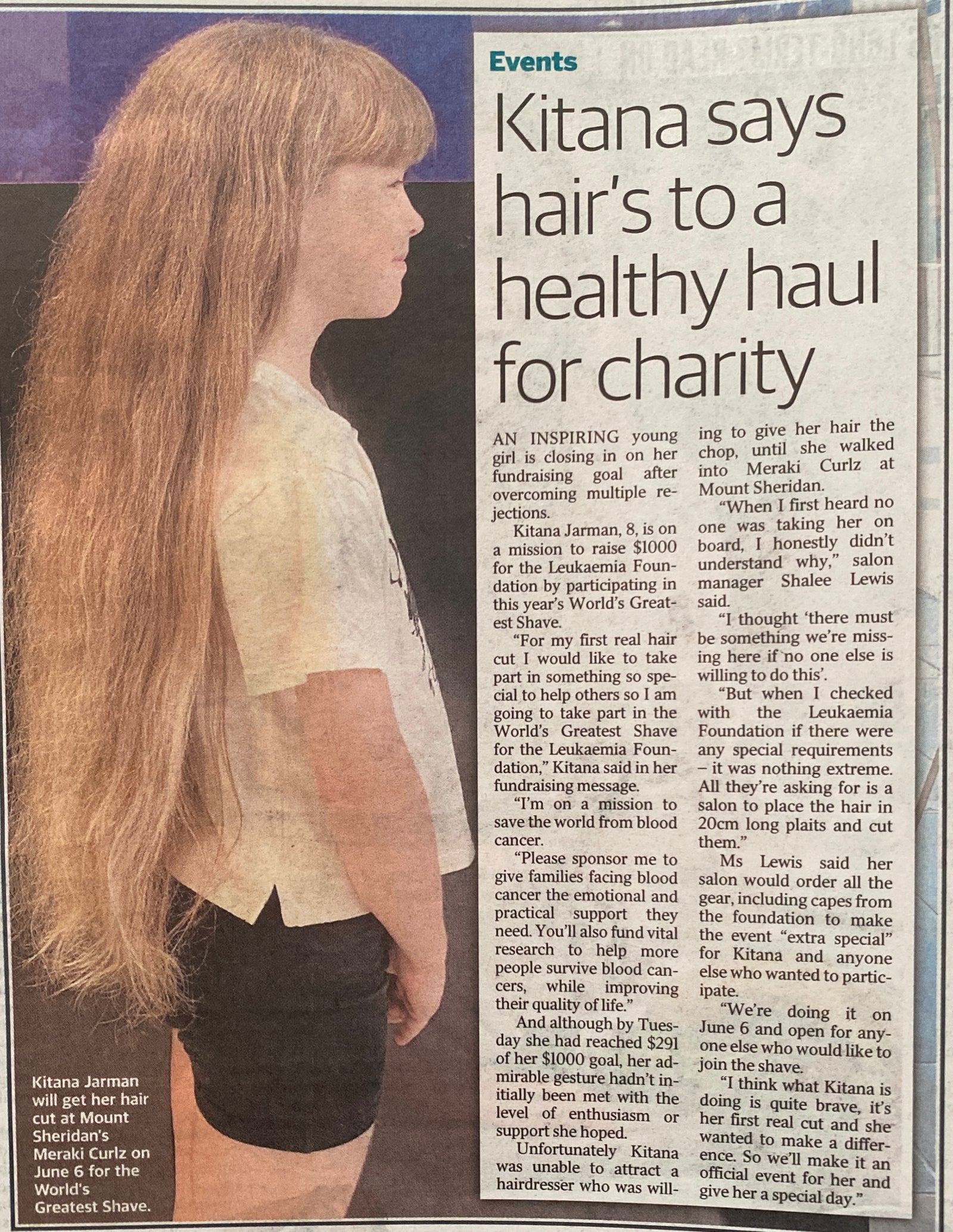 Kitana says hair's to a healthy haul for charity!
AN INSPIRING young girl is closing in on her fundraising goal after overcoming multiple re-jections.
Kitana Jarman, 8, is on a mission to raise $1000 for the Leukaemia Foundation by participating in this vear's World's Greatest Shave. "For my first real hair cut I would like to take part in something so special to help others so I am going to take part in the World's Greatest Shave for the Leukaemia Foundation," Kitana said in her fundraising message. "I'm on a mission to save the world from blood cancer. Please sponsor me to give families facing blood cancer the emotional and practical support they need. You'll also fund vital research to help more people survive blood cancers, while improving their quality of life."
And although by Tuesday she had reached $291of her $1000 goal, her admirable gesture hadn't initially been met with the level of enthusiasm or support she hoped.
Unfortunately Kitana was unable to attract a hairdresser who was willing to give her hair the chop, until she walked into Meraki Curlz at Mount Sheridan.
"When I first heard no one was taking her on board, I honestly didn't understand why," salon manager Shalee Lewis said. "I thought there must be something we're missing here if no one else is willing to do this'."However, when I checked with the Leukaemia Foundation if there were any special requirements - it was nothing extreme. All they're asking for is a salon to place the hair in 20cm long plaits and cut them."
Ms Lewis said her salon would order all the gear, including capes from the foundation to make the event "extra special" for Kitana and anyone else who wanted to participate. "We're doing it on June 6 and open for anyone else who would like to join the shave. "I think what Kitana is doing is quite brave, it's her first real cut and she wanted to make a difference. So we'll make it an official event for her and give her a special day!"
Published by the Cairns Post - 7th April 2021. 
---