Huge accolades for local Hairdressing Salon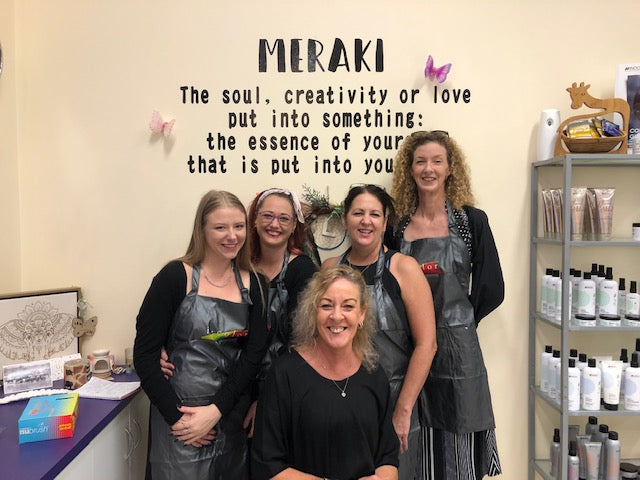 As part of sweeping social-distancing measures, on March 24 Prime Minister Scott Morrison announced nail salons, tanning, waxing and most other beauty services would be closed – but hair salons could remain open with a 30-minute per client time restriction.
There was much criticism this limit was both unfeasible and highly gendered, and it was reversed. Salons can operate if they maintain one person per four square metres. Whilst many hairdressers across the country voluntarily closed their doors, Meraki Curlz stayed open for business.
Lyn Hutchinson Salon Owner of Meraki Curlz at Mount Sheridan Plaza could not have been more excited when contacted by Sandy Chong Chief Executive Officer of the Australian Hairdressing Council and a director of the Council of Small Business Organisations of Australia on Thursday May 28, 2020.
Sandy has praised and recognised Lyn and the staff at Meraki Curlz for their reputation, vision, ambassadorship and the way in which they have handled and traded through this challenging time. Naming Meraki Curlz as one of the most impressive salons in Australia at adhering social distancing regulations and operating throughout this challenging time following all Government directives and taking precautions as required.
Sandy like many hairdressing salons across Australia has been somewhat overwhelmed by the enormity of the coronavirus pandemic that is leaving an indelible mark on small business across the country.
Sandy Chong said "Australian hairdressing has certainly faced its greatest challenge this year. It has been a testing time for all of us and I have been so impressed but not surprised by the Meraki Curlz teams continued professionalism, resilience and creativity."
Lyn Hutchinson Salon Owner said, "We have not been performing blow waves, adhering to 30 minute appointments where required, wearing masks and aprons at all times, washing all items that are touched by both staff and clients and requesting that all customers use the provided hand sanitiser before entering the salon."
"In many cases we act as makeshift counsellors to many of our clients and we thoroughly enjoy that aspect of our roles. Our customers have been comfortable and happy to continue booking as normal as the size of our salon allows us to make the respective changes to allow for social distancing" Says Lyn.
67,000 people are employed as hairdressers and Lyn is incredibly grateful for it to be possible to continue to employee several staff on a casual basis.
"We couldn't be prouder of Lyn, Meraki Curlz and her team for being recognised for this gratifying achievement." Says Kay Judd Centre Marketing Manager.
The feedback Sandy Chong has provided has been a breath of fresh air and Lyn is pleased to be recognised at the highest level for following both the Government Covid – 19 restrictions and the rules that has been put in place by Sandy Chong and the Council of Small Business Organisations of Australia.
Photo: L to R
Georgia White, Kylie McCosker, Sharon Wagner, Vicki McDonald and Lyn Hutchinson (Seated)
Media Contact
Kay Judd
Marketing and Customer Experience Manager
4036 3150
kjudd@mtsheridanplaza.com.au
https://mtsheridanplaza.com.au/huge-accolades-for-local-hairdressing-salon/
---